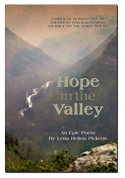 Hope in the Valley
A Biblical Perspective of President Barack Obama's Journey to the
White House
Hope in the Valley is an epic poem which chronicles President Barack Obama's political and spiritual journey from his candidacy to the presidency. Rendered in epic literary format, Hope in the Valley uses the Biblical analogy of Ezekiel in the valley of dry bones  (Ezekiel 37)  and Isaiah's call  (Isaiah 6:8) to suggest how President Obama was called to serve during America's midnight crisis or recession.
In addition to her recently published book, Hope in the Valley,Lena is working on her second book which is expected to be published in 2012.
Articles
Click to view a list of published articles by author, Lena Pickens
Poems
About The Author
Lena Helton Pickens is a native of Charlotte, North Carolina.  A retired Speech-Language Pathologist and former elementary teacher, Lena is a graduate of J.H. Gunn High School, and  Johnson C. Smith University where she received a BA Degree in Elementary Education. She received her Master's Degree in Speech and Language Pathology from UNC-Greensboro.
 She has many interests and enjoys working with children, teaching Sunday School, writing, public speaking, storytelling, and presenting workshops. She has a passion for helping youth and adults to improve their communication skills; the appropriate use of formal language, including correct pronunciation and enunciation as well as recognition of dialects and regionalisms. Lena published guide on Language Flexibility to promote appropriate and effective communication skills.
A poet and free lance writer, Lena recently became an author and published her first book, Hope in the Valley.  Having written most of her life, she has numerous poems and articles which have not been published.
Some of her articles and poetry have been published in the following newspapers; The Charlotte Observer, The Charlotte Post and The Newell Informer which is no longer in circulation.  She has also been published in neighborhood and church newsletters including the Friendship Informer and Jirah newspapers at Friendship Missionary Baptist Church. Ideas for much of her writing are based on scriptures, personal journals, human interest stories and reflections on Sunday School lessons and sermons.
Lena resides in Charlotte, NC and is married to William Pickens, Sr.  They have four children and six grandchildren.